don't have time to do all the things i want, including blog. it depresses me a bit, and maybe my my six followers as well. :P
anyway, i spend all my time working in hell and studying in hell and then hopefully sleeping. the pay is alright at least, but i don't think anyone actually knows how to run my department, or else they just can't agree on one way and stick with it. it's hard to do a job when three-ish people are telling you three-ish different ways to handle the same problem.
also i need to see my dude way more often. not that i don't see him, cuz i do, but we have some serious wedding planning that needs to go on. i know we still have about a year, but that's really not a long time apparently. mom offered to buy us our plates and little party favors and such, but we don't even know how many people will be there yet, and that sort of list making definitely requires both of us to be together for a few hours with both of us awake!
i thought i had decided on a dress, though. then i fell in love with another hand-made dress on etsy, only to find out that the fabric it's made from is discontinued, so i would have to order it now to be sure to have it. problem is i'm still losing about one to two pounds a week, sometimes as many as four (and sometimes none at all), so there is no way for me to know what size to order that dress. . .i could have it altered, but i don't want to pay for dress stuff twice. . .
my plan on that front is to continues weight watchers in 'lose' mode until about august of next year, order the dress at whatever size i am then (it takes a month or so to get it, it's hand-made and comes from new zealand), and then go into 'maintain' mode until after the wedding.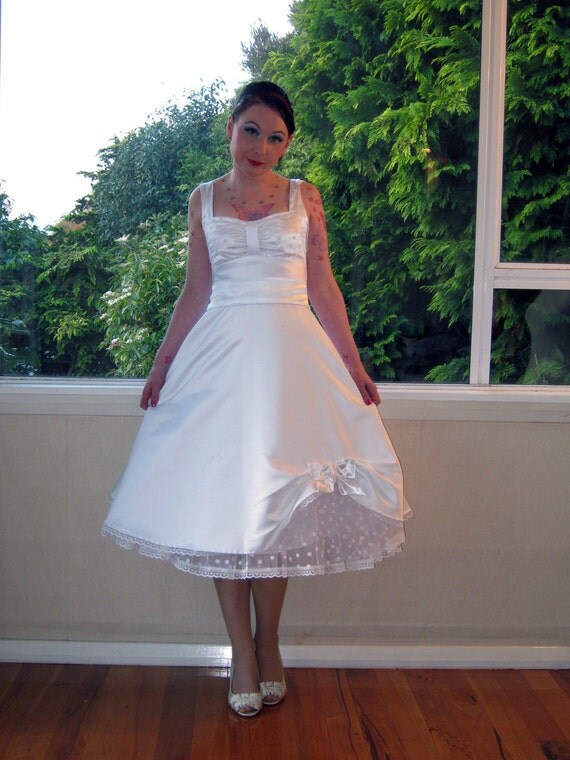 this is the one i want, but that polka dot tulle apparently won't be made forever, and that's my favorite part! but all the wedding dresses she makes are beautiful, all fifties retro. . .so cool! pop a pill box hat with cool short veil and i'll be set!
my future brother-in-law is getting married this weekend, so i also got a cutesy dress for that! i love to dress up, plus it's a nice big family event so it should be cool. chris and i are responsible for the rice krispie treats for dipping in the chocolate fountain. was that a great decision? we shall see. . .
anyway, it's like seven a.m. and my dude should be waking up to go to work soon, so maybe i can see him for a bit! plus i wanna try to hit the treadmill this morning before i go to bed (stupid third shift job. . .)
peace.